Welcome to Paint Pots Nurseries and Pre-schools
We make a difference by providing high quality childcare and education, benefiting the child, the parents, our staff and the community, in a safe, caring and stimulating environment, full of love, laughter and learning.
Paint Pots is a thriving network of 6 nurseries and 6 pre-schools, in Southampton and Hampshire, well-known for having an inclusive loving and homely environment, which is safe, secure and stimulating.
Our Approach
We believe that learning can and should be fun. We ensure that each and every one of the children we care for feel nurtured, supported and happy to love, learn and laugh during their time with us as part of our Paint Pots family. We aim to provide joy, care, and friendship with a commitment to excellence in educational standards with a broad and inclusive Christian ethos, that respects people of all faiths and none.
We understand that minds of all ages need a tailored approach when it comes to learning and developing their skills before starting school. We have nurseries and preschools in Southampton and across Hampshire, each offering a unique caring environment with highly qualified staff who are passionate about childcare.
Our Nurseries and Pre-Schools
Our nurseries and pre-schools cover the Southampton area, so if you live in this area we have a location near you! Use the menu below, or search using the map, to see the locations available to you and what facilities they have to offer.
We are very excited that Paint Pots is now part of our wider Launchpads Early Years family. We are proud to share similar values, care, resources and incredible staff to make our services more available to local communities and ensure that quality care is accessible to those that wish to join us.
From Launchpad Social Enterprise founder, The Rev Canon Nick Ralph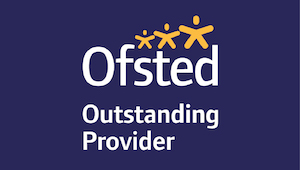 Majority of Settings Outstanding